THREE LIVING HUMAN TREASURES THAT WILL ENRICH YOUR TRIP TO CHILE
By:
Chile Travel

| Date: 8 March, 2021 | In:

Blog , Culture ,

We dedicate this article to three very special living human treasures because of their contribution to the diversity of Chilean society and their efforts to preserve our traditions and ancient knowledge. These are people who make Chile a pluralistic and diverse country, rich in traditions.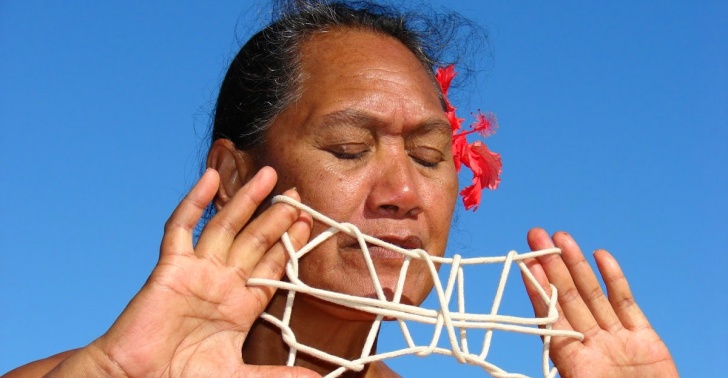 Isabel Pakarati, Rapa Nui woman, declared living human heritage in 2017
photo: [eldefinido.cl]
What could be more gratifying for a traveler than to spend moments of their journey to get to know the culture and traditions of other people by what is known as Living Human Treasures?
From north to south, Chile has a great diversity of beautiful landscapes unforgettable for those who visit them, but our country also has a human heritage. These remarkable people are deemed as bearers of knowledge, expressions, and techniques that are deeply rooted in our nation's regional cultures and traditions.
Nowadays, these people are known as living human treasures, human patrimony that you should not miss if you plan to visit Chile, because they will enrich your trip, giving more meaning to the places you visit.
WHAT ARE LIVING HUMAN TREASURES?
This recognition was created by UNESCO to recognize the value of a country's intangible cultural heritage, honoring the ancestral knowledge that contributes to the preservation of the country's traditions. Annually, academics and representatives of the public and private sectors select winners from several categories: individual and collective cultural figures or local communities.
So, in this article, we'll tell you the story of three remarkable living treasures that you can't skip on your next visit to Chile. They are Isabel Pakarati from the Rapa Nui culture, Zoilo Geronimo Escalante, an indigenous colla from northern Chile, and the Mariquilan Lindsay family, longtime artisans from the south of our country.
TRAVEL TO RAPA NUI AND LIVE A "KAI KAI" EXPERIENCE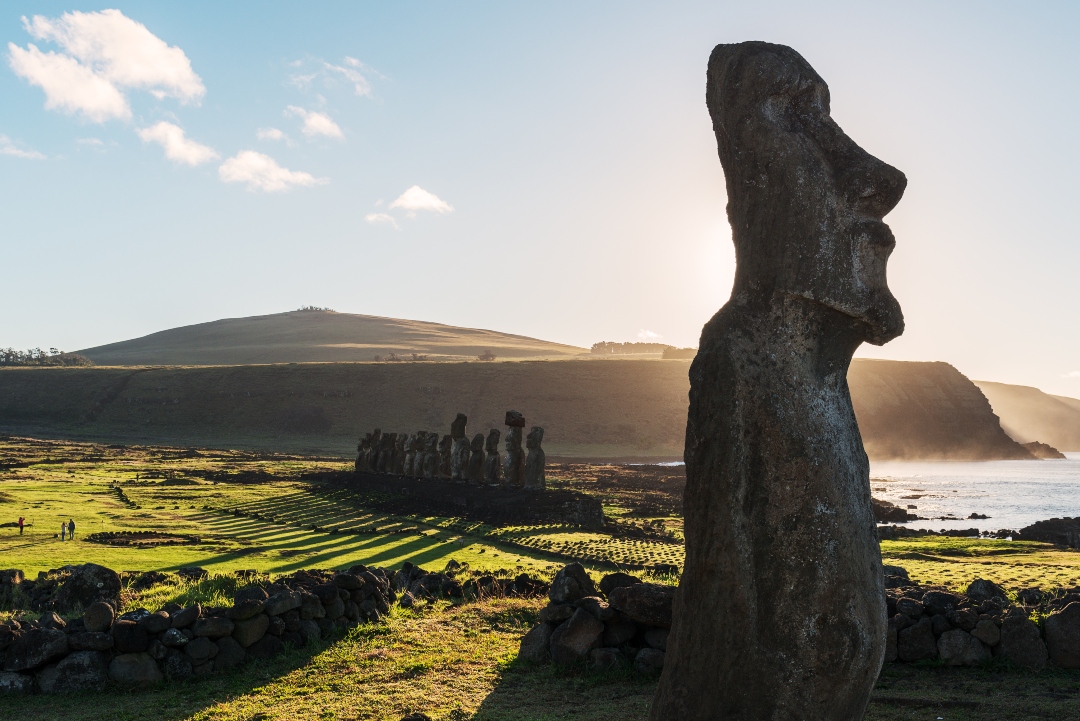 Rapa Nui Island, Chile
Isabel Pakarati Tepano was born in Rapa Nui in 1951; she descends from two prominent island lineages. The Pakarati surname comes from a large family of musicians, sculptors, and artisans, who have played a fundamental role in the recovery and promotion of local crafts and arts.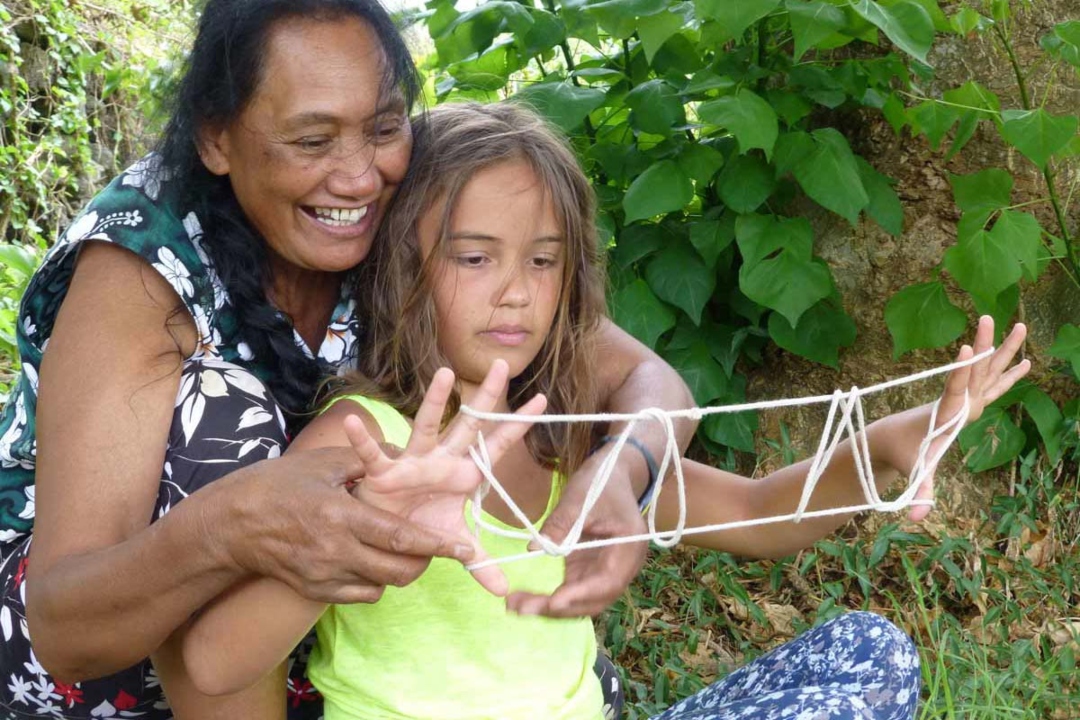 Isabel Pakarati teaching the ancestral "Kai Kai "
Photo: [moevarua.com]
On the other hand, the Tepano surname is one of the most important lineages of the ancient Rapa Nui people. The Tepano's have been the bearers of oral traditions coming from the "Tupuna", the ancestors.
Isabel is, therefore, the heiress of many traditions of the Rapa Nui culture, one of which is the Kai Kai. It is a form of traditional Rapa Nui language, through which the history and other traditions of the island have been perpetuated. It basically consists of a game where a figure or ideogram is assembled by intertwining a thread between the fingers of both hands while reciting a verse called pata'u ta'u.
Through the Kai Kai, ancient tales and legends or mythical characters were recreated; and the knowledge regarding ceremonies, rites, architecture, impressive woodcarvings, agriculture, and fishing were transferred.
As the leading cultivator of this activity, Isabel Pakarati has taken part in numerous projects. She has done workshops, story-telling and even appeared in documentaries in national and international media. She was invited to teach in schools in Santiago, the capital of Chile. This exposure has allowed Rapa Nui traditions to be shared with the world.
Suppose your plan is to visit the mystical island of Rapa Nui. In that case, you MUST visit Isabel's workshop, "Mana'u Tupuna" at the Rapa Nui Museum, where you can see her teaching this ancient activity to children and young people. You are likely will feel chills when you listen to the beautiful voices singing ancestral stories while building all kinds of figures in their hands.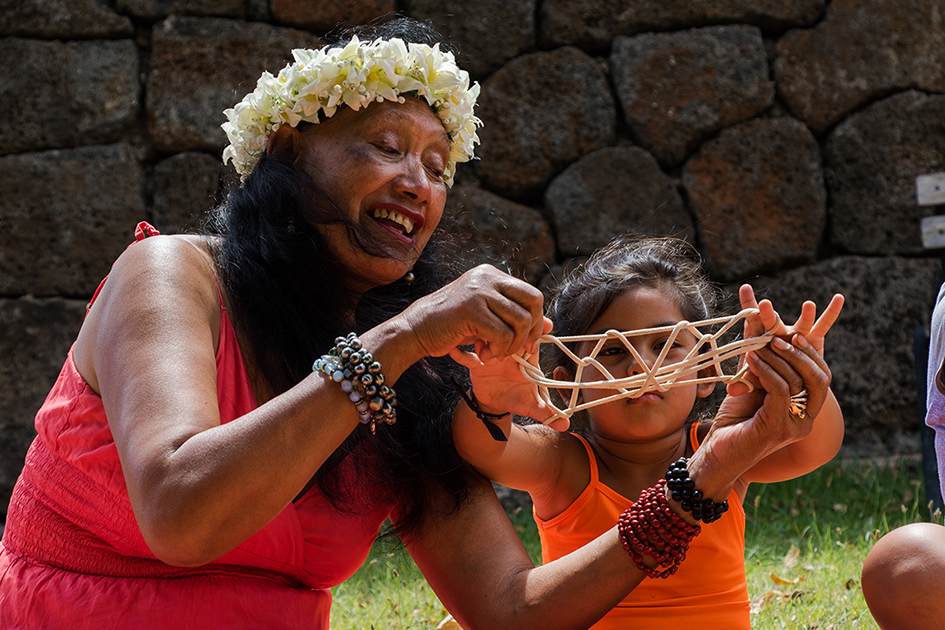 Kai Kai workshop, Rapa Nui
Photo: [patrimoniocultural.gob.cl]
LISTEN TO THE VOICE OF THE HIGH MOUNTAIN WTIH ZOILO GERÓNIMO ESCALANTE, A COLLA INDIAN
Zoilo is one of the last of the Colla people living in the Atacama foothills. This indigenous group of the Andes is originally from northwest Argentina, but they migrated to the Atacama Desert to settle in different sectors of the Andes Mountains, where the altitude, snow, cold, and the "puna" (highlands) reign. The Kollas or Collas are nomadic par excellence, however, they have developed a livestock technique that has allowed them to provide for generations, without necessarily having to move continuously.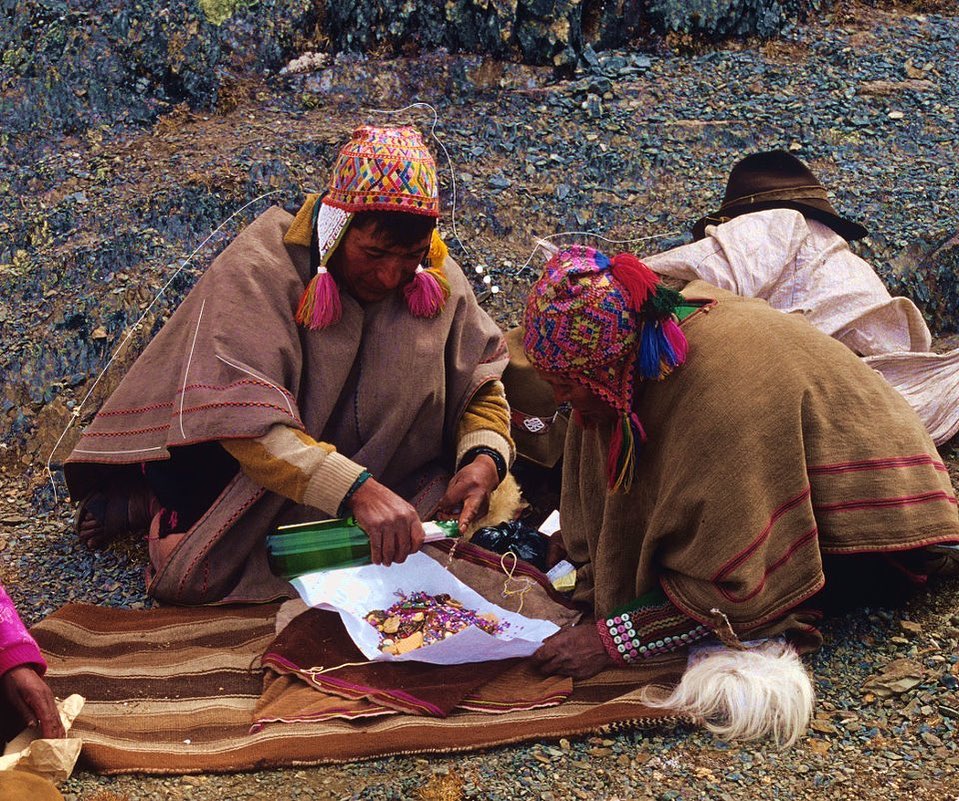 Colla community of northern Chile
Foto: [@los_colla]
Imagine sitting on an arid and uninhabited hill, watching the sunset over the endless horizon, listening to the voice of this musician, a "yatiri" (healer), a herder, "a trafficker of messages" as he defines himself. This man is living human treasure by definition and will fill your experience in the vast desert of Chile with stories.
Zoilo Escalante is a native of the Rio Jorquera community and knows his ancestral culture in depth.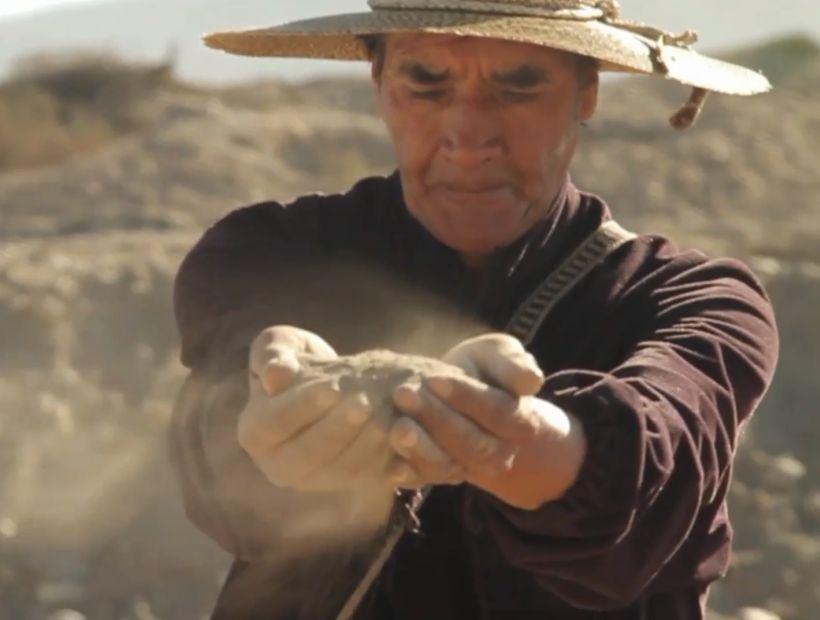 Tribute to Mother Earth by Zoilo Escalante
Photo:[andeseclipses.org]
When UNESCO named him a "Living Human Treasure" in 2017, he said, "I was awarded this recognition because of my wildness, because of what I've done all my life, traveling, communicating, teaching about the territories, the watering places, the native lands and its material and spiritual resources."
To visit Zoilo is to have the privilege of listening to prayers and songs that pay tribute to nature, the energy of the wind, the water, the earth, the stars, the moon, and all the elements representing the natural nest of life.
VISIT THE MARILICAN LINDSAY FAMILY IN THE SOUTH OF CHILE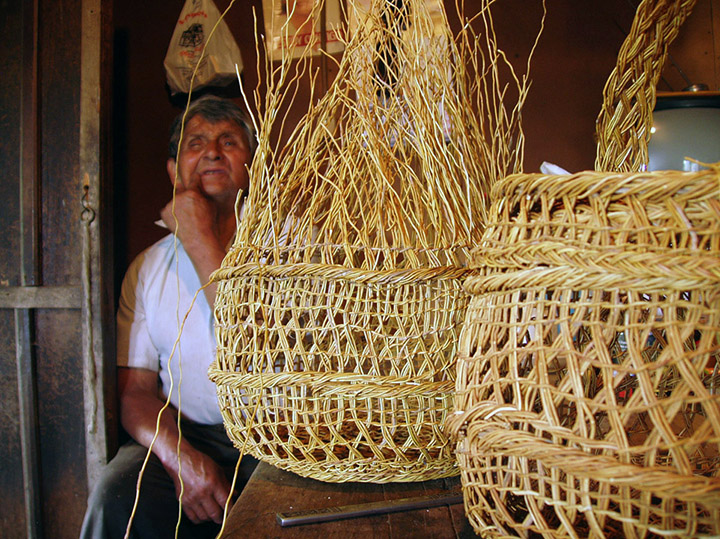 Dagoberto Marilican, plant fiber craftsman
Foto:[sigpa]
If you already know the south of Chile, you have certainly enjoyed its ancient forests, rushing rivers, and culture rich in pre-Columbian traditions, but there is always more to discover!
We would like to introduce you to our latest recognition of living heritage that we have selected, who we are sure can enrich your visit to southern Chile:
The Marilican Lindsay family is a renowned clan of wicker artisans who live in the town of Ancud on the island of Chiloe. Since the 17th century, from generation to generation, they have been weaving quilineja baskets, and thus, preserving the ancient and woody fibers with thin and flexible stems, known initially as "paupauhuén."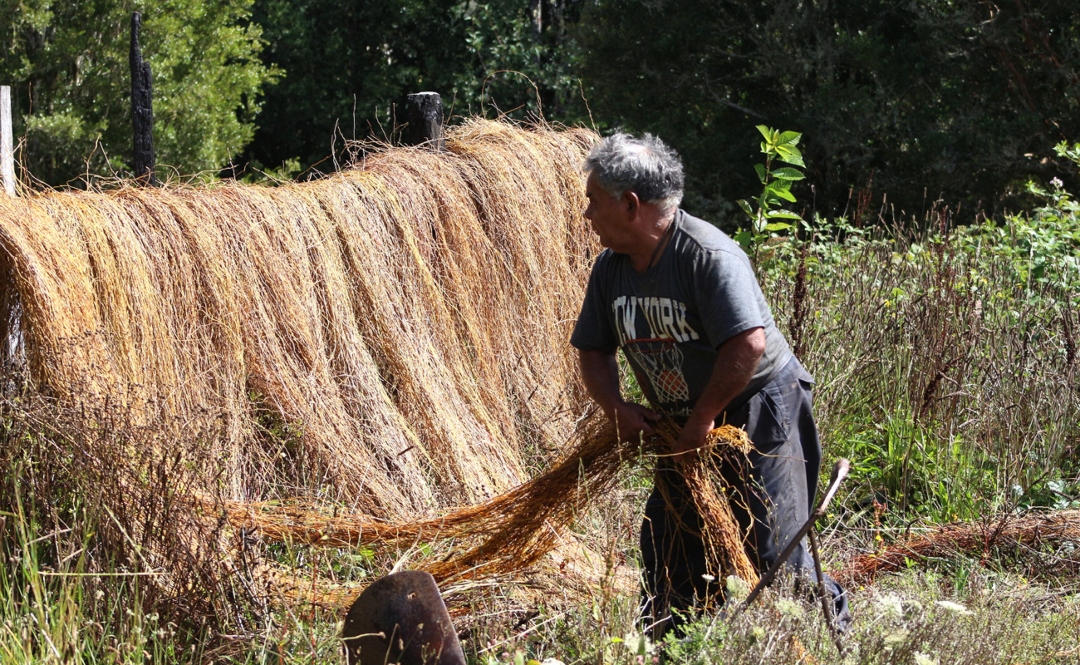 Quilineja Fibers, raw material used to make ancestral baskets
Foto:[artesaníasdechile.cl]
"Since ancient times, the inhabitants of the Chiloé archipelago have used a variety of plant fibers to make baskets for collecting potatoes and seafood, to winnow wheat, to preserve and prepare food, to store clothes, and even to carry a hen to be sold in the city," says Juan Marilican.
It is wonderful that you can still find this beautiful handmade craft in Chiloé, mostly thanks to the Marilican family, who has managed to adapt to the passing of time and create ornamental pieces that they call "fantasies" or "luxuries."
Today you can find cups with their matching plates, gourds for drinking mate, lampshades, placemats, mugs, and much more! And if you are an art enthusiast, you can take a short introductory workshop on traditional basketry. This precious activity can enrich your trip to the southern part of our country.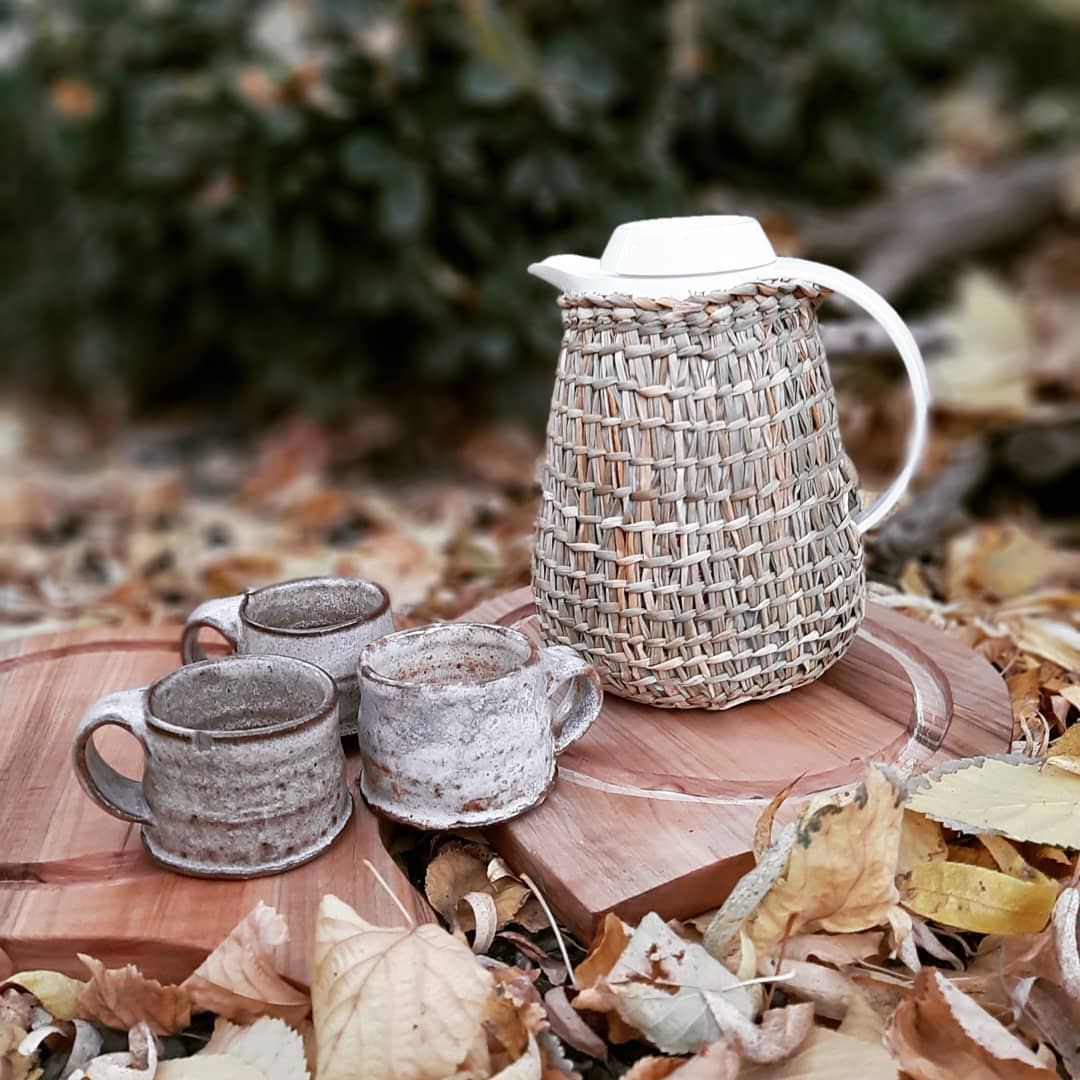 Quilineja basketwork, Chiloé
Photo: [@casaluze.deco].
Now you know! On your next trip to Chile, we encourage you to meet one of our living human treasures. Their invaluable knowledge and ancestral work are worthy of being told around the world to preserve and teach it to future generations and visitors.