LA EMPANADA, SABOR ÚNICO DE LA TRADICIÓN CHILENA
By:
Chile Travel

| Date: 8 July, 2021 | In:

Blog , Culture , Wine and gastronomy ,

If there's one thing that is truly representative of Chile, inside and out, it's the empanada. That's why we want to tell you all about this famous and very delicious dish that Chileans love, as do the visitors that come from abroad.

In city homes, country houses, and food stands, the Chilean empanada symbolizes celebrating and sharing good times with friends and family. You can eat it by itself as a meal or as an appetizer for the asado (barbecue). There are many different types with many different fillings. It is often paired with Chilean red wine, but any beverage is also good.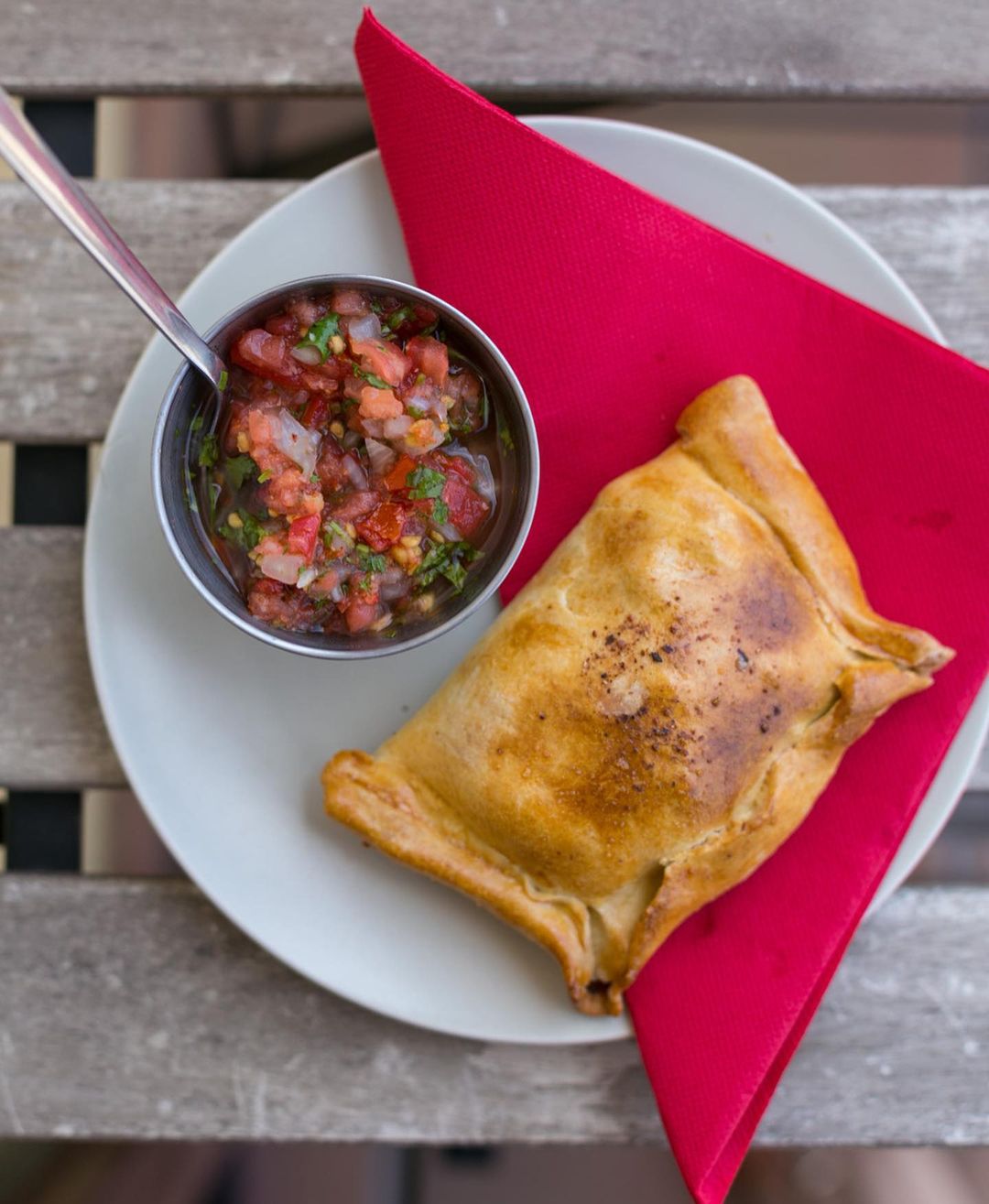 Chilean empanada on a dish with a side of pebre
Photo: [@elsabordelobueno]
In the countryside, they are cooked inside mud or wood-fired ovens, while in cities, they are cooked in regular modern ovens. Almost nothing beats a freshly baked empanada, which you can eat with some Chilean pebre. If you don't know what pebre is, now you'll want to try it. It's a picante-sauce made with diced tomatoes, chopped onions, hot peppers, coriander, lemon, and salt. In general, Chileans don't eat food too spicy, so don't be afraid to try the pebre.
The story behind this hit dish 
The name `empanada' comes from the verb 'empanar', which means wrapping or covering with bread, as they are basically empanada dough wrapped around a filling, of which there are many kinds. The most popular consist of meat, chicken, or seafood and can have vegetables, eggs, cheese, olives, raisins, and many more ingredients. We'll tell you in detail a bit further.
To know about the origin of the Chilean empanada, we must cross the Atlantic and go to Spain. According to history, it is part of the culinary heritage of the Arabs who, after abandoning the Hispanic territory, left this recipe there.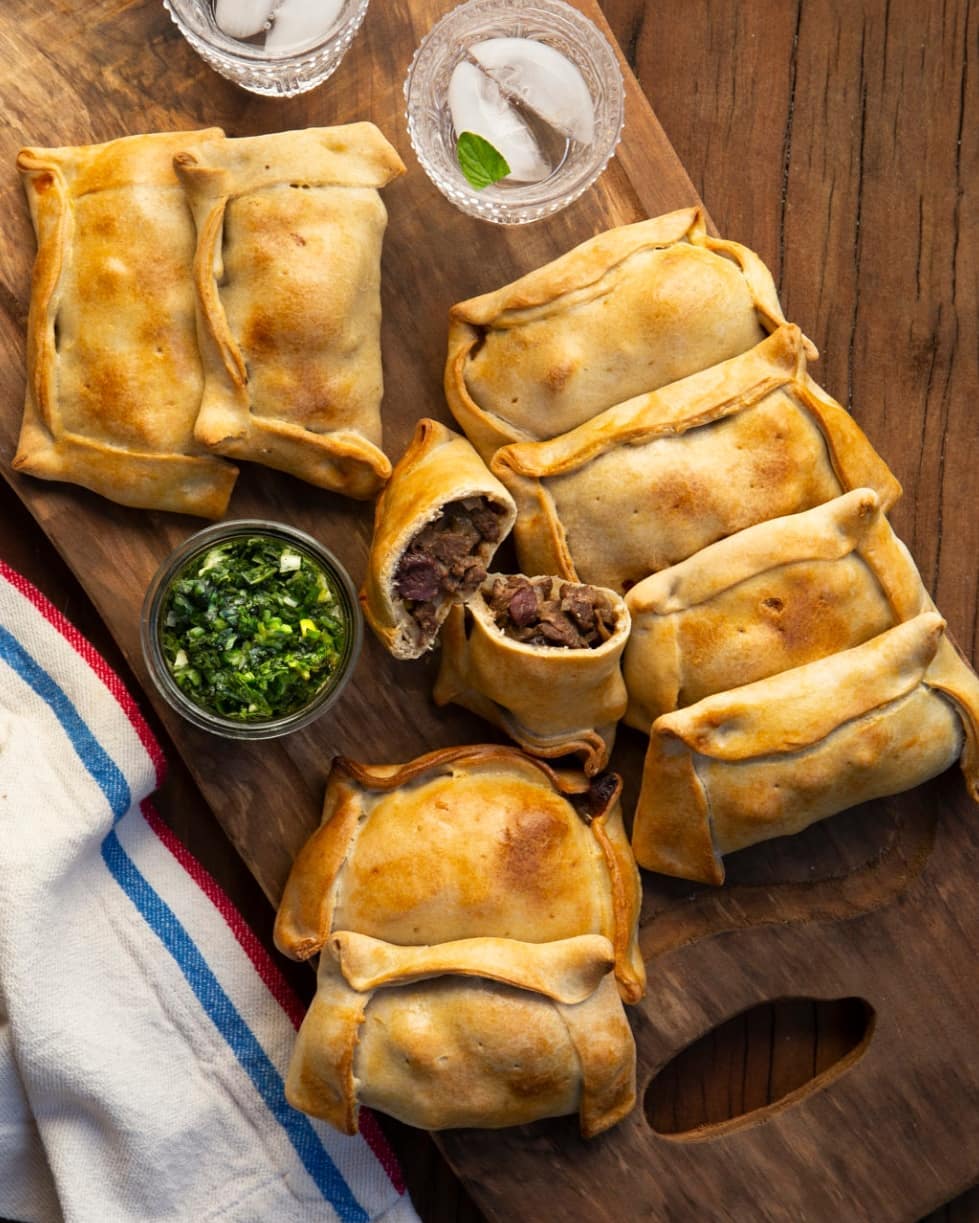 Empanadas with "pino" filling
Photo: [@dona__mia__]
After the expulsion of the Moors from Spain and Columbus' arrival to America, the Spanish conquistadors brought the empanada recipe to Latin America. Here it was transformed into new local varieties. In Chile, the empanada began to be filled with minced meat, onions, raisins, eggs, and chili peppers, which the Mapuches called "pirru", later evolving into the word  "Pino", as we know it today.
There's an empanada for everyone's taste
Although the Spanish introduced empanadas into several Latin American countries, Chile has created its own varieties. Chilean empanadas are made with wheat flour, lard and brine for the dough, and then filled with "pino", or cheese, seafood and veggies,  then fried or cooked in an oven before being served.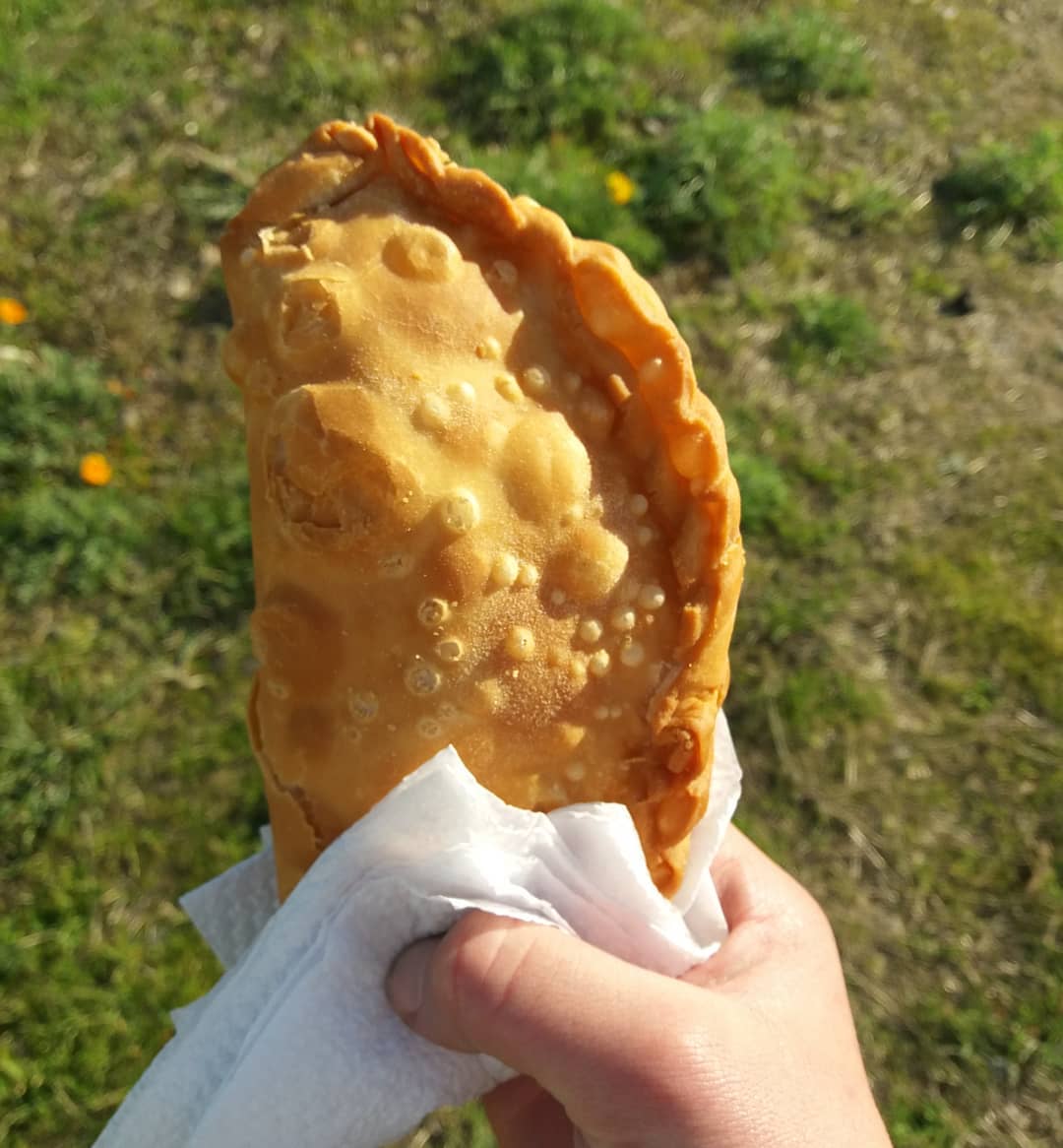 Fried empanada
Photo: [@claugalindof]
As for the fillings, the 'empanada de pino' is the most typical, but there is a variant called 'pequén', which does not have the pino meat, but it does have the meat juice, abundant onion and chili pepper, and it is cooked over a flame.
If you ever go to Pomaire, a small town near Santiago, you can try the empanadas de "kilo" that, as the name suggests, weighs a kilo (2.2 lb). They can be meat or chicken empanadas and are cooked in a mud oven. Would you be able to eat the entire kilo of empanada?
If you don't eat meat, no worries, there are more varieties! There are the seafood ones, with crab, oyster, shrimp, clams or razor clams, and cheese. Seafood empanadas are usually fried in oil, but there are also baked ones.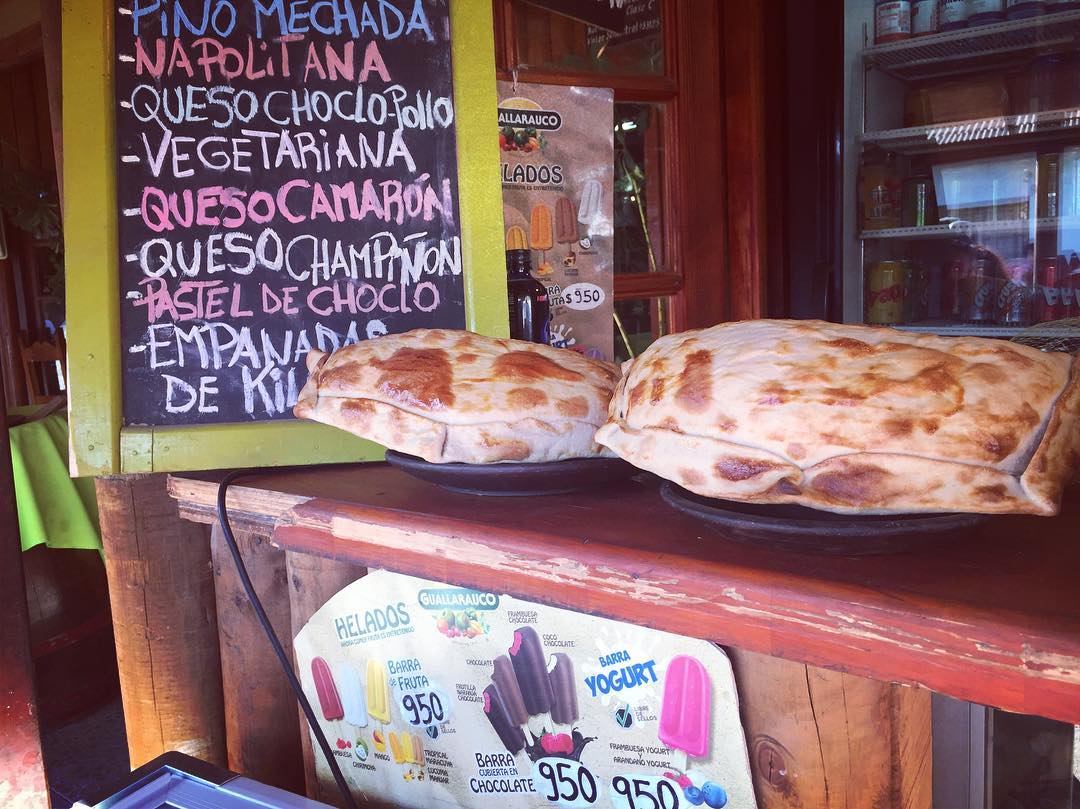 "Kilo" empanadas in Pomaire
Photo: [@barbara.c.f]
For vegetarians, there are empanadas stuffed with vegetables such as chard and cheese, tomato cheese, a seaweed called cochayuyo and  there's even those with fruit and dulce de leche. Which one would you order?
The Protagonists of the Independence Holidays
Now that you know about all the different fillings, are you ready to make your order? During Fiestas Patrias, Chile's National holidays celebrated on September 18 and 19, the empanada is the queen of Chilean gastronomy.
September smells like Chile, spring, wine and empanadas! It is  Chileans' favorite dish during this time of the year and they are usually eaten as an appetizer before the barbecue and paired with good Cabernet or Merlot.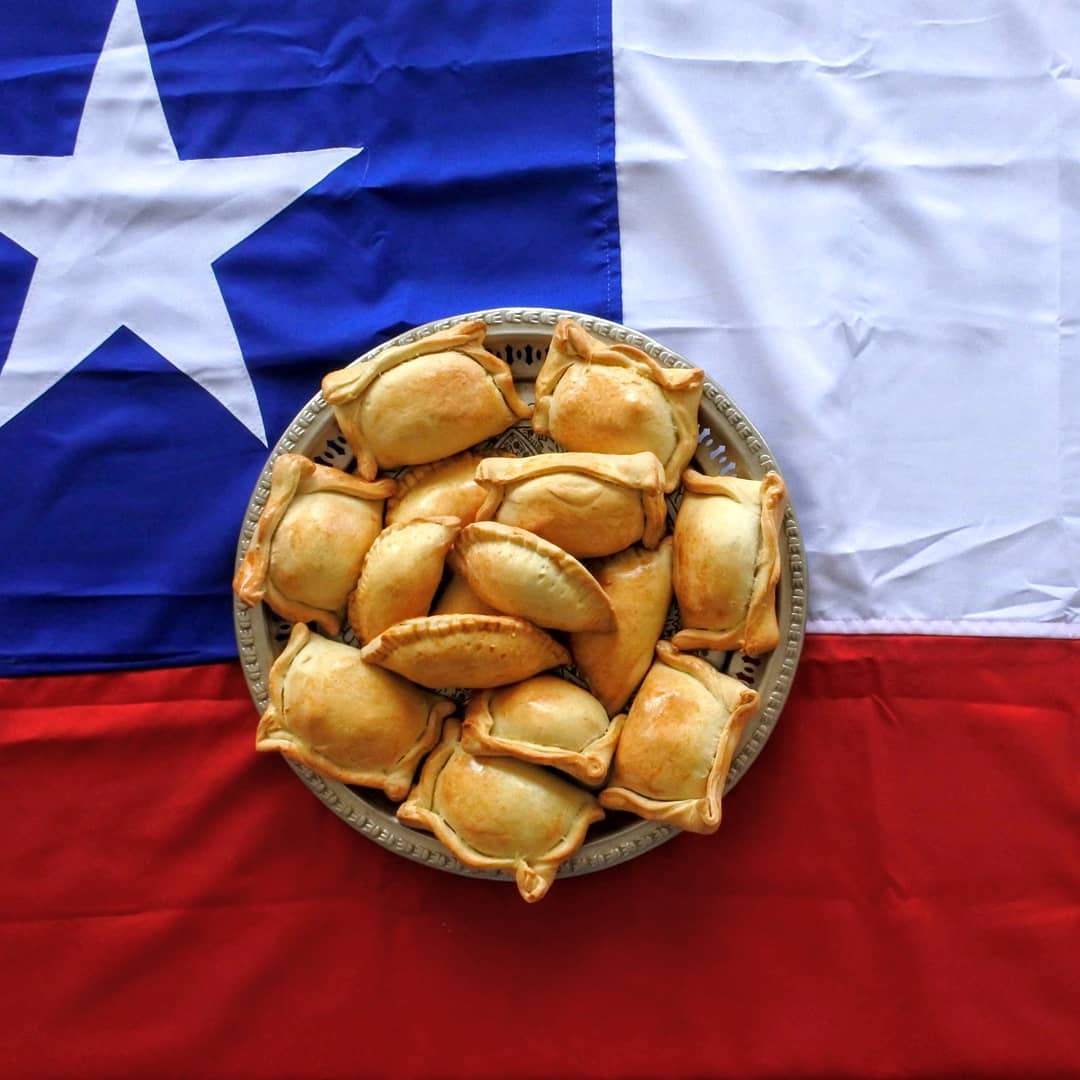 Empanadas placed on a Chilean bandera de Chile
Photo: [@mis.aventuras.culinarias]
It is so popular that there's a blind tasting where food critics and journalists try over fifty baked empanadas de pino, bought at both established stores as well as local cookeries from different districts of the Metropolitan area. They choose the year's best empanada in Santiago.
Thanks to the industrial and semi-industrial ovens that are currently used in national bakeries, empanadas have acquired different notes and tastes.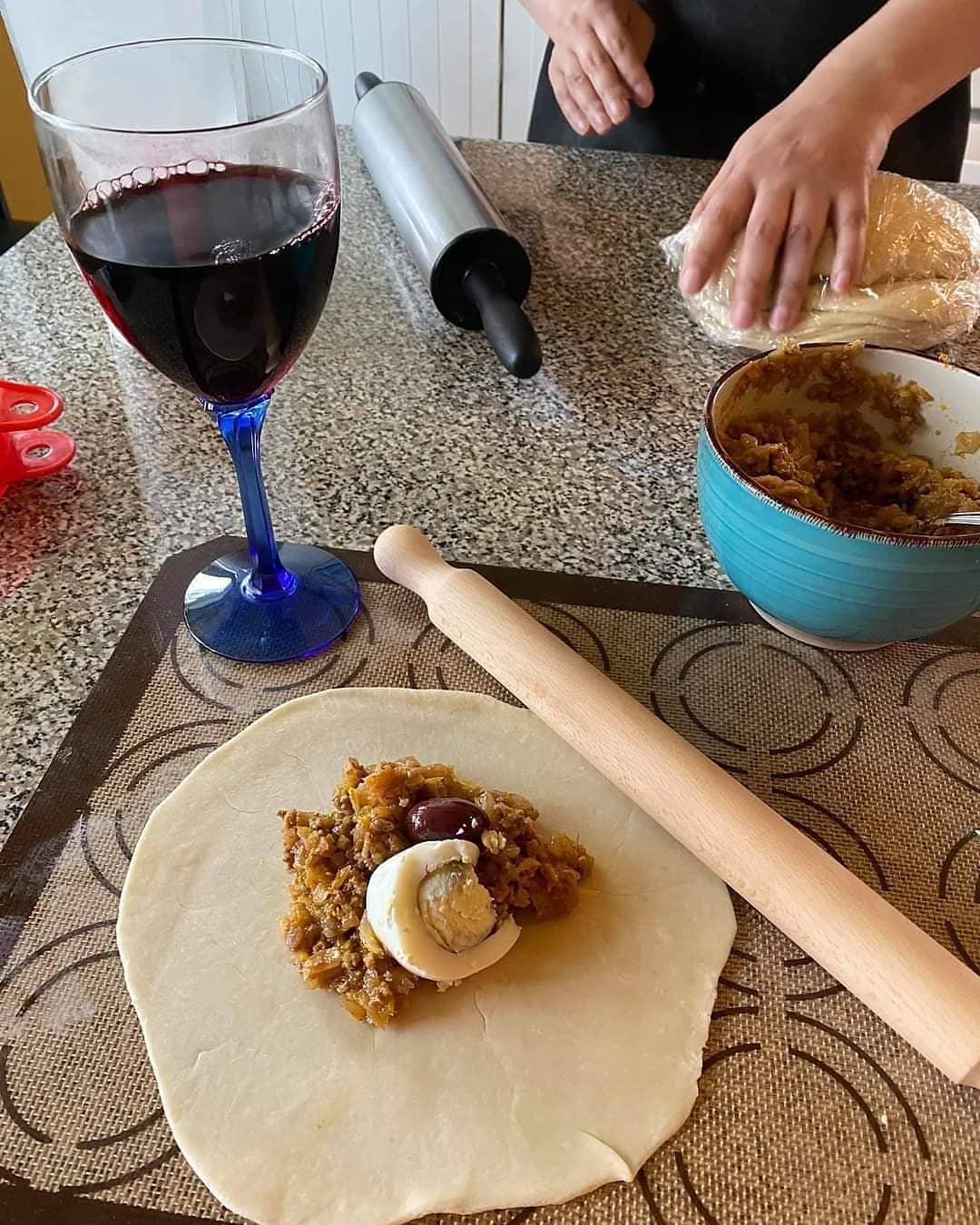 Empanada dough with pino filling and a glass of red wine
Photo: [@andeanholisticwellness]
If this article opened your appetite, you should know that empanadas are the queen on the Chilean table not only in September but all year round. We are sure that any Chilean resident will tell you where to get a good empanada no matter what part of Chile you visit.