Get to know the best routes for traveling by motorhomes and Rv's in Chile
By:
Chile Travel

| Date: 23 July, 2019 | In:

Adventure , Nature ,

Many people dream of traveling through Chile from north to south in total freedom of stopping whenever they choose, sleeping in extraordinary locations and visiting this land of contrasts in a different fashion, perhaps more authentic and profound. Pack your bags and your house, and just like a snail, travel in Chile via Motorhome, a unique way to enjoy new adventures.

Go at your own pace, without reservations, wake up on the shores of the ocean, on the banks of a river or in the middle of the mountain; this mode of traveling is an attractive alternative that everyday has more fans.

And Chile has all that is needed to be an excellent destination for traveling in any kind of Recreational Vehicles (RV's) whether by Motorhomes, trailers or Campers. Here there is good connectivity, a diversity of unequaled landscapes, welcoming communities, great climatic conditions and good infrastructure for receiving these types of vehicles.

CHILEAN ROUTES FOR THE JOURNEY
It's difficult to get lost in Chile having the ocean and mountains as reference points, north and south are evident. Still, we have an excellent GPS system that will help you find the best path to your destination.
While it may be a great idea to travel the entire distance of over 5,200 km (3,230 mi) from Arica to Tierra del Fuego (more than 4.000 km. in a straight line) and enjoy the diversity and beauty of the country, it's difficult to find the necessary time to do so.
Therefore, we have chosen from among the different routes offered in our country, those most scenic and impressive so you can begin your adventure or add them to your bucket list. Introducing the two best routes to travel by RV's in Chile.
THE BEST ROUTES IN CHILE FOR TRAVELING BY MOTORHOME
1.-DESERT AND STAR ROUTE
The Star Route includes four large areas of the north of Chile: La Serena, Vicuña, Andacollo and Combarbalá. From here it's possible to begin the Chilean Starlight journey and be enchanted by the colors of the desert, magic towns and a sky so clear it allows one to peer into the mysteries of the universe.
Depending on the interests and desires of the travelers, this well maintained route winds through Chile's north with visits from the ocean to the mountains passing through valleys, oasis and impressive places in the driest desert in the world.
If luck is on your side, you may be able to witness the Flowering Desert on this route.  This natural phenomenon takes place during the Spring in exceptionally rainy years when unique floral species blanket the sand dunes of the desert in wondrous colors.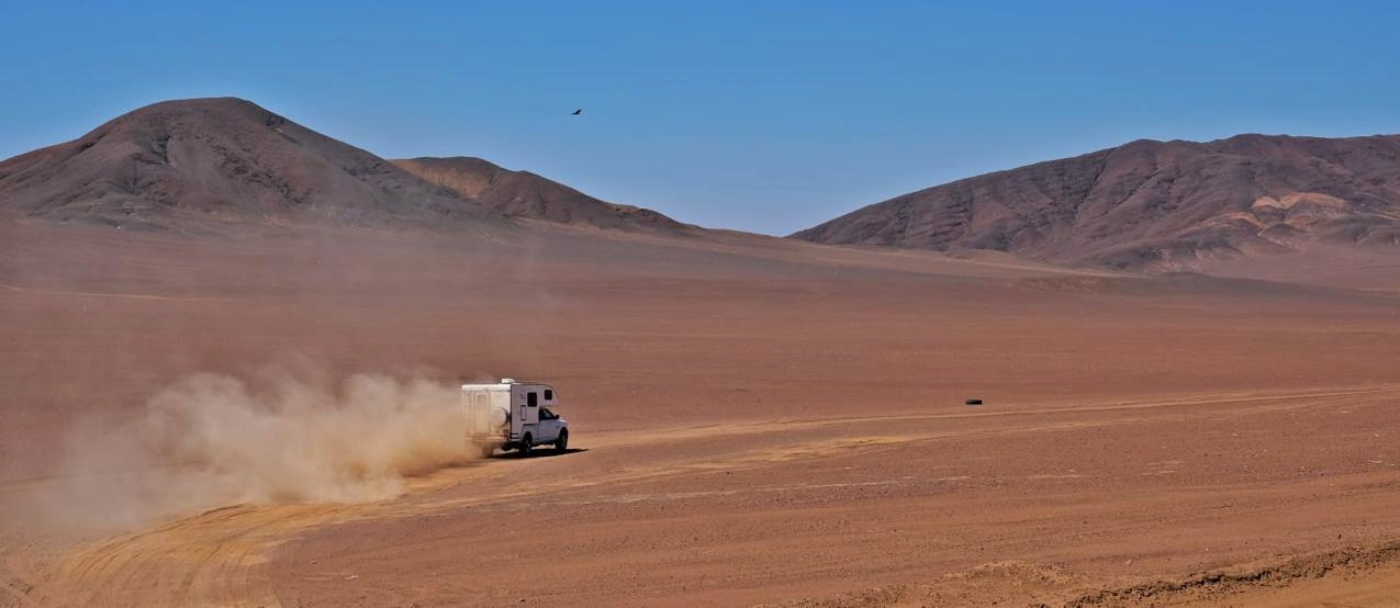 From La Serena to San Pedro de Atacama
This Itinerary begins in the city of La Serena, 470 kms. (292 mi) from Santiago, or about six hours considering that motorhomes travel a bit slower than cars which usually can make the trip in about 4,5 hours. The tourist attractions in La Serena include its endless beach, great dinning and original handicrafts.  What a great way to begin the trip!
About 80 kms (50 mi) from La Serena, you can visit Isla Damas, a magic place, home to bottle-nosed dolphins, chungungos (a type of marine otter), sea lions and Humboldt penguins, among other marine species.
Following Route 41 for 30 minutes from La Serena toward the Andes mountain range, one enters Elqui Valley. Here one will find numerous towns famous for their wines, pisco and its skies so clear it's possible to observe the cosmos like nowhere else in the world. There are many camping sites that also accommodate Motorhomes.
Travel for another six hours, (400 km or 248 mi) on the highway known as "Ruta 5 Norte" and you'll be in the city of Caldera, a fishing village famous for its interesting places to observe marine life, enjoy beautiful beaches and visit places like the Paleontology Museum.
Bordering the Pacific, still on Ruta 5 Norte for another 100 kms (62 mi) is the Pan de Azúcar National Park. This is an mandatory stop for an entire day of exploration. This marvelous place has very different flora and fauna thanks to the Camanchaca, a fog that rolls in from the ocean humidifying the cactus and bushes making the place truly enchanted.
Continuing another 200 kilometers north and you'll be in Paposo. This old city and mining site is an interesting stop, first, because of its ethnic patrimony, being known for maintaining traditional herbal wisdom of the Atacama Desert alive, and also because of its charming fisher's cove.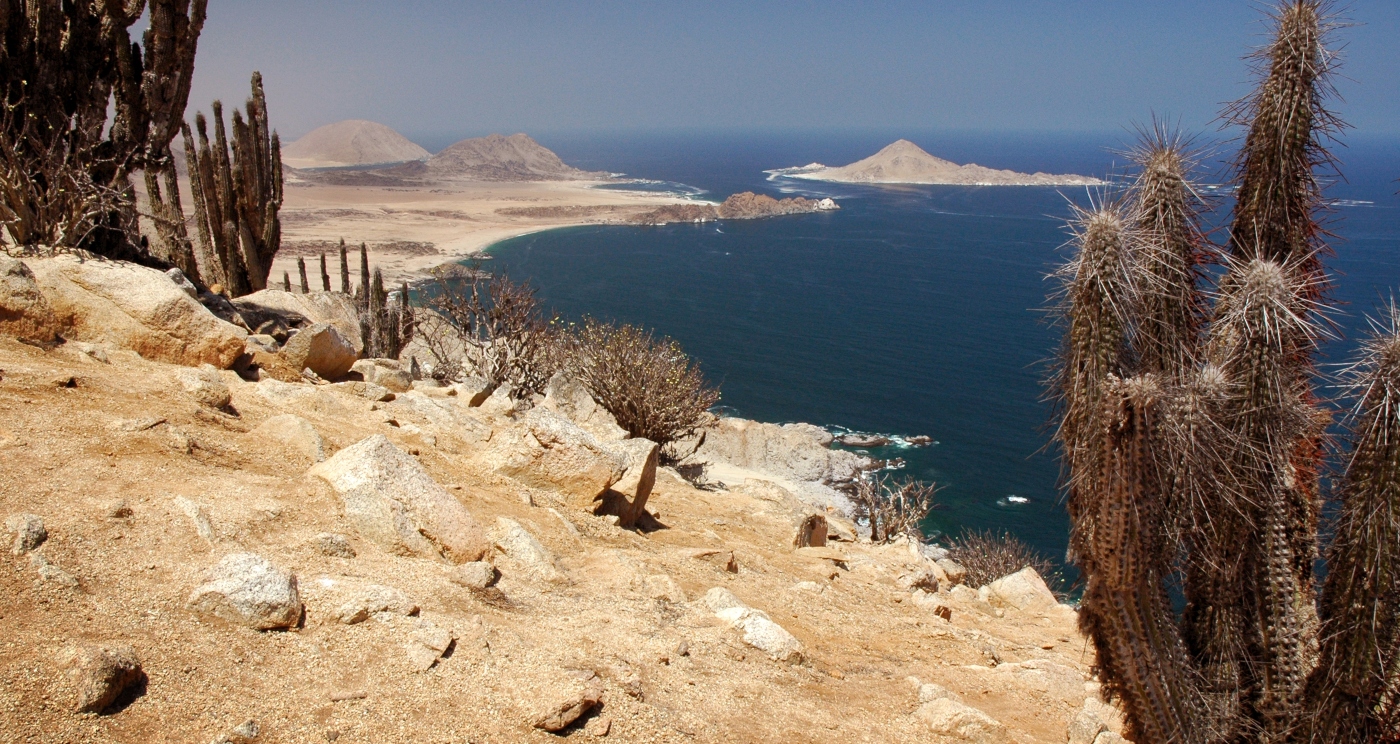 The longest leg of this journey (375 km or 233 mi) is to the city of Calama. However, it is well worth the drive as the place offers visitors a warm welcome, as well as the opportunity to stock up on supplies and rest before heading even further north. On the way, you'll catch a glimpse of Chile's great mining culture since Chuquicamata, the world's largest open-pit mine, visible from afar, is where the greatest copper reserves are found.
San Pedro de Atacama, a destination sitting at 2,438 meters above sea level is worthy of a few days visit.  The town is full of life and enchantment and is surrounded by a diversity of natural attractions.
Some of them can be reached by Motorhome, but it's necessary to have good information previous to embarking on a trip since desert roads are many times very curvy and climatic conditions can be unstable.
Close to San Pedro de Atacama you will come across the mountains of salt and sand that make up the Valles de la Luna and the Valle de la Muerte, as well as the Aldea de Tulor with its flamencos, the Tatio Geysers and its thermal waters, the Ojos del Salar and its lagoons, only to name a few of the famous attractions to be found in the area. Worthwhile and memory making places.
2.-THE SOUTHERN ROUTE AND THE CARRETERA AUSTRAL
The south of Chile is an excellent place to travel by Motorhome since it has good installations and highways (however not all are paved).  The scenery is divine and the beauty is exceptional.
The city of Puerto Montt, a bit more than 1,000 km. south of Santiago, is the dividing point to two equally fascinating places: Chiloé and La Carretera Austral
From here it's possible to begin a journey to the archipelago of Chiloé, whose biggest island, Chiloé, is outstanding for its attractive scenery, islets, lakes and National Parks.
Truly a Must-See for those who want to set their eyes on the south of the country and go to the archipelago. It's necessary to ferry across the Chacao Canal  (apt for all kinds of vehicles).  A real adventure!

From the city of Ancud it's possible to visit the nature reserve for penguins ln Puñihuil. Further south on the road to Castro, a recommended departure is to Dalcahue, where one crosses to the island of Quinchao, and Curaco de Vélez to enjoy the delicious oysters of the area. Take advantage of buying some for later to enjoy in your motorhome as you journey south.
Continuing on the adventure, you arrive at Port Achao, where you will park your Motorhome and board a ship to navigate its inner islands.  Lake Huillinco is found a bit further south of Castro, next to Chonchi, where you can park and take a well-deserved rest and recharge your batteries.
Do you want to pump up your adrenaline? Continue to the extreme south of the Isla Grande de Chiloé till you come to Tantauco Park. Unforgettable kayaking and hiking trails are among its attractions.
La Carretera Austral, or Southern Highway, will take you for the next 1,200 kilometers (750 mi) from Puerto Montt to Villa O'Higgins, through the Chilean Patagonia in all of its splendor. From here it's possible to cruise the almost virgin islands and dismembered coastline by ferry.
On this road to the southern-most point of the world, you can marvel at the impressive fiords and glaciers, snow-masses, multi-colored lakes and rivers surrounded by different types of forests from the window of your motorhome.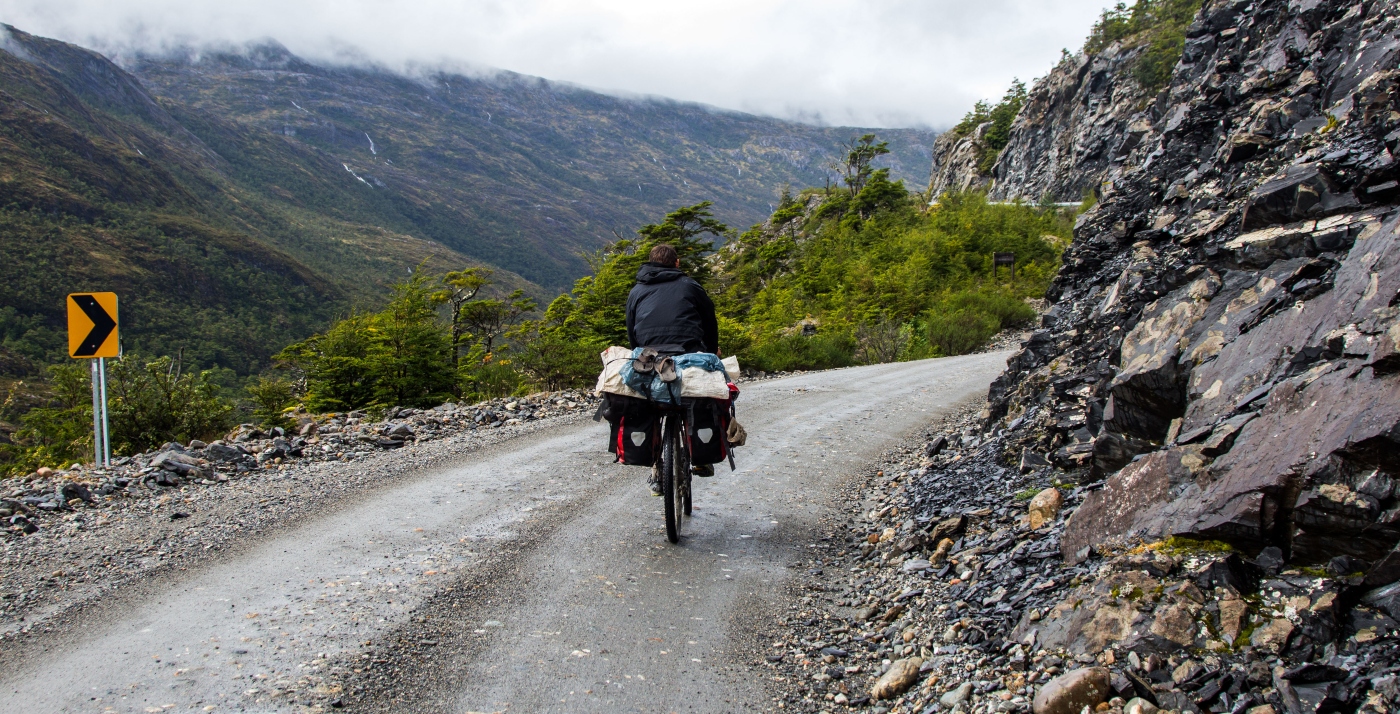 Another option from Puerto Montt, is to take Ruta 7 to Caleta La Arena, where you can take a 30-minute ferry ride to Caleta Puelche.
Back on the road, you'll see the Pichicolo Fiord and Hornopirén, where you can ferry six hours to Chaitén, a place to stock up, rest and connect to the Internet.
A Must-See is Parque Pumalín that extends from the Andes to the fiords of the Pacific. Douglas Tompkins, a businessman and philanthropist from the United States, donated this magnificent park to Chile as a National Park. In this natural paradise you will find amazing Valdivian forests, volcanoes, waterfalls, rivers, lakes and singular flora and fauna species.  Without a doubt, this is a magnificent experience.
The 150 kilometers that separate Chaitén from La Junta offer non-stop emotions, adventures and extraordinary scenery like that of Lake Yelcho, emerald colored and surrounded by mountains of ice. Fill your lungs with the purest air and give yourself the gift of a moment that will last a lifetime!
In La Junta you can visit National Reserves like Lake Palena and Lake Rosselot, discover native fauna and take part in adventure sports. After a couple of days, the journey continues on to Coyhaique.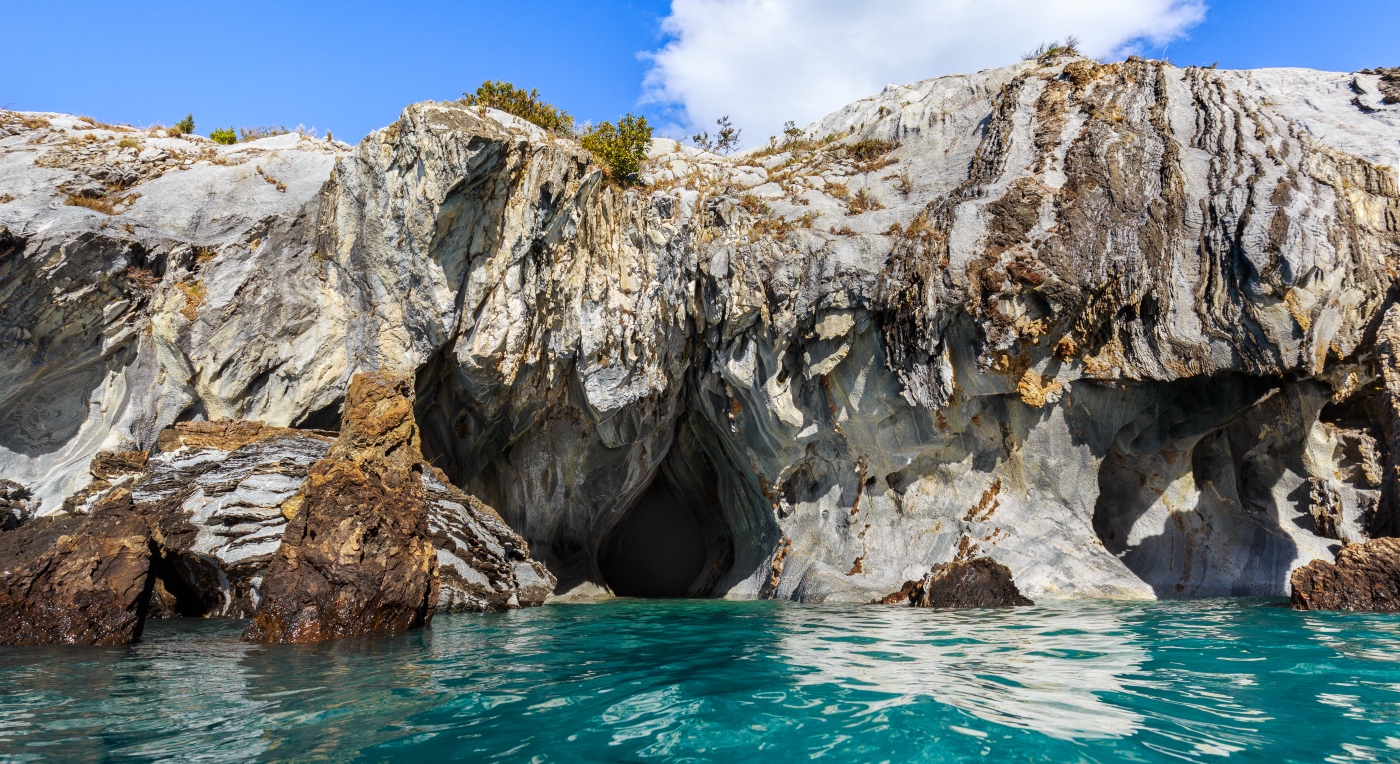 This section of the Carretera Austral and Queulat National Park is emblematic. Patagonian forests, waterfalls, fiords, rivers and the famous hanging snow-mass known as the Ventisquero Colgante: all mandatory visits if one is that far south.
The road between Coyhaique and Cochrane is longer and more  intense. The trip is 330 km. (205 mi)and takes about six hours on Ruta 7 (Carretera Austral). National Reserves and Wild Protected Areas are concentrated in this sector. The incredible marble wonders known as the Capillas de Mármol (Marble Caves) emerge from the turquoise waters of Lake General Carrera.  It's a site you'll never forget.
You'll want to visit the Paso San Carlos National Monument, the Tamango National Reserve and the Caleta Tortel.  Vehicles are not allowed to enter.  Only pedestrian traffic is permitted on the typical wooden paths. This is the cherry on the cake of this beautiful and intense journey on the Carretera Austral de Chile.
Go for the gold on this adventurous journey in Chile by motorhome!  Don't forget your camera, and be on the lookout for places to stock up on your daily needs and gas, since resources are scarce in these remote destinations.