Dream of Chile, where the impossible is possible!
By:
Chile Travel

| Date: 21 April, 2020 | In:

Adventure , Nature ,

Chile is an impressive place, a destination where the impossible is possible, and where the imagination has no limits. A country that makes tourists Shout Out #IDreamofChile at each cardinal point, and offers its visitors the deepest lakes in Latin America, the highest volcanoes, the most remote islands of the continent, the world's driest desert and much, much more.

We invite you to enjoy the extremes that exist in our natural environment, to surprise yourself with the beauty of the last corners of the planet and the mysteries that surround them. A place where whales can fly, where GPSs are human and where there are dances of people with masks of the Devil, called The Diablada, who dance for God in order to chase away the bad spirits.

From wherever you are in the world, we want you to Dream of Chile, its places, attractions and its people.  Still have doubts? Let us share a list of some of the most beautiful options that will keep you dreaming of Chile and planning your next adventure to our lands.
The most remote islands of the world are in our country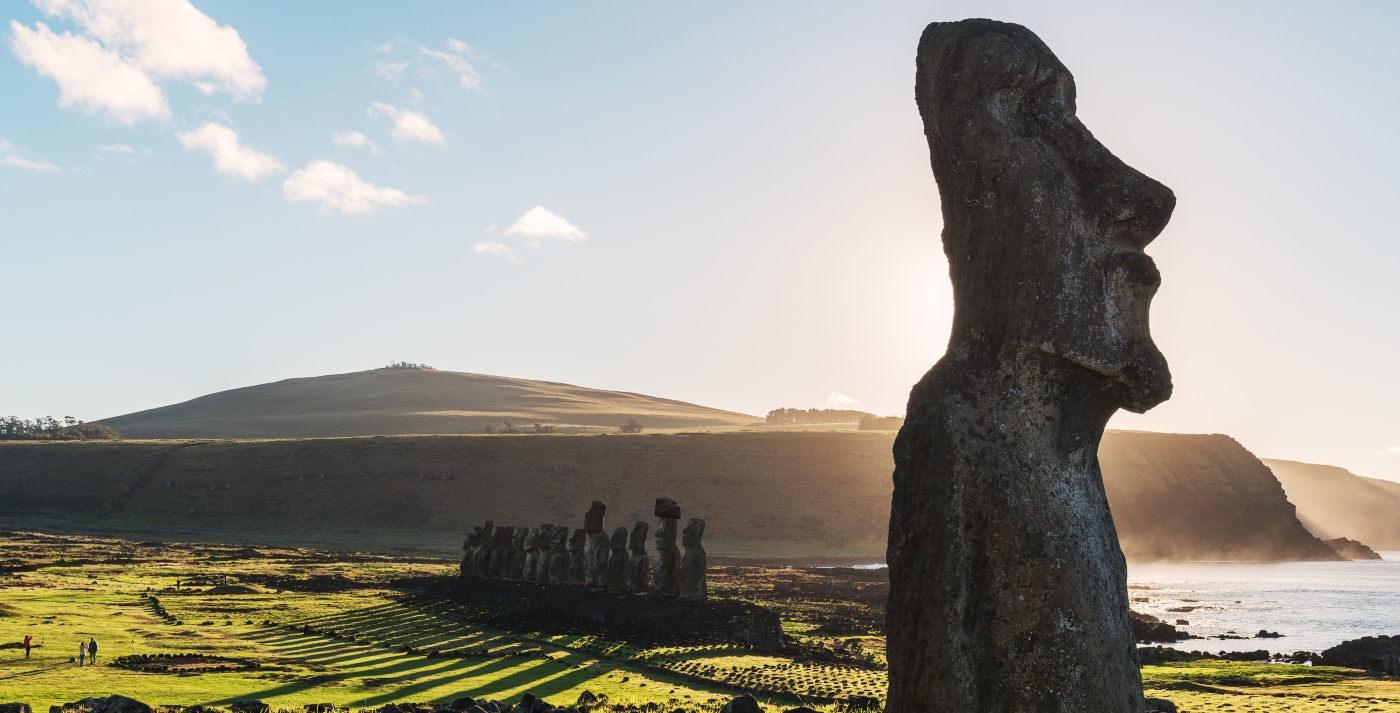 Chile has approximately 4,300 kilometers (2,672 miles) of coastline and an exceptional richness of inland territories. You may be surprised to know that we have 3,739 islands, without counting the two thousand islets with less than one square kilometer.
As you can imagine, the proportion of the populations that inhabit these islands is very small, giving one the opportunity to discover almost virgin landscapes, surrounded by the omnipresent Pacific Ocean. The following is our selection of the four best islands of Chile.
The first and most famous is Rapa Nui, situated 3,800 km. (2,361 mi) from the Chilean continent, making it the most remote island in the world. It's also known as the World's Naval due to its distance from any continental coast.
The island's living patrimony are the people of Rapa Nui, and their characteristic stone sculptures called Moai, their dances, songs, the Tapati festival and the spectacular Anakena beach. All of these components make a trip to Rapa Nui a unique experience, where tourists get to know the wild side of its nature and its people, and its magic archaeology. A place so mystical, it seems almost impossible to believe it exists in reality.
Next on our list is Isla Mocha. After a three hour boat ride from the city of Tirúa in the Arauco region, you´ll land on this wild island that is outstanding for its virgin landscapes and the complete sensation of isolation when you find yourself there.
Herman Melville's famous novel "Moby Dick" was inspired by what was originally Mocha Dick, a huge, white whale that swam in these waters. The island, with a long history of shipwrecks and pirate incursions, was abandoned by force in the XVI Century, and perhaps thanks to that, today   45% of its territory is a National Reserve, with a remarkable preservation.
Long virgin beaches and little human presence make this a perfect place for those who want to get away from it all. It's another place that seems impossible to visit and enjoy, but today by sea or air you can feel as though you've arrived to paradise on Earth.

One hundred and thirty kilometers north of the city of La Serena, from Punta de Choros, one can embark towards the Humboldt Penguin National Reserve, home to Isla Damas, the third on our list of dreamy places to visit in Chile. A great number of marine animals like sea lions, dolphins, sea otters, birds and the Humboldt penguins have large colonies that live here.
On Isla Damas one is allowed to enjoy this natural environment and lounge on its white sand beaches with turquoise waters, however swimming was recently prohibited in order to preserve the marine ecosystems.
If you seek extreme adventures, let us tell you about O'Higgins Lake, the deepest lake in Latin America (836 meters or 1,266 feet). It's one of the few lakes that cannot be easily navigated due to the strong winds blowing over it.
Visitors can reach a glacier of the same name by crossing the lake, which marks the border between Chile and Argentina. The road that goes from Villa O'Higgins to El Chaltén is possible by sailing on the lake, by way of Puerto Bahamondes and Candelario Mancilla.  This is an unforgettable adventure that will make you shout out #IDreamofChile.
The highest and most extreme Volcanoes that we have!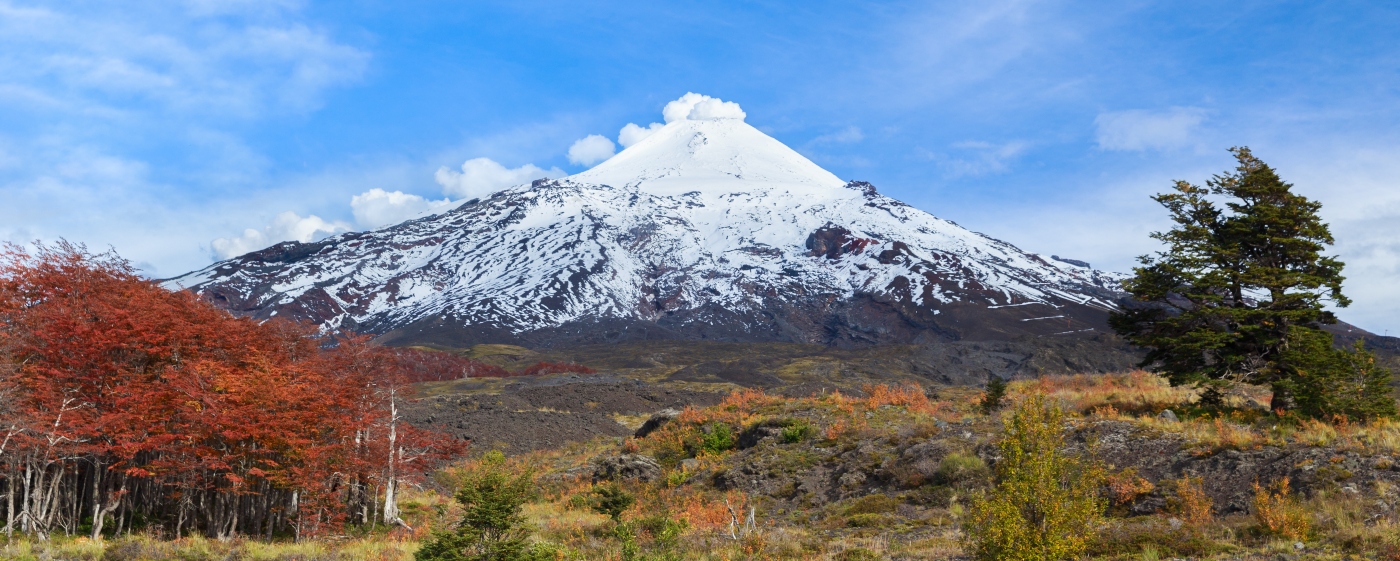 Among the extreme attractions of the country, the winner of the World Travel Awards for four consecutive years as the World's Best Adventure Destination, includes the highest volcano in the world: the snowy Ojos del Salado (6,891 masl), only about 60 meters less than Mount Aconcagua, the highest mountain on the American continent.
From north to south, Chile has approximately 2,000 volcanoes, of which about 500 are active. We'll tell you about a few of the most impressive ones and detail the reasons you should Dream of Chile and  then visit to make your dreams a reality.
We've already mentioned Ojos del Salado, the highest volcano that is active on the planet, located in midst of the Atacama Desert, the driest in the world.  We invite you to admire its majesty and we dare you to climb it. In addition to needing great technical abilities, the climb requires good physical fitness and preparation.
The ascent can only be attempted during the morning before the strong winds begin to blow.
San José de Maipo Volcano is found an hour from Santiago and is an ideal escape for those who are visiting the city. As a part of a chain of snowy peaks, its ascent offers a privileged view of the magnitude and heartwarming beauty of the Andes. San José is active, but stable, and represents no risks for the populace or its visitors.

The Villarrica Volcano is one of the most active volcanoes in South America and one of the most visited in Chile, is found in the south of the country and is not exceptionally high, barely reaching 3,000 meters (9,842 ft).
Even though it can be climbed at any time of the year, special precaution must be taken in the winter due to low temperatures and deep snow. That aside, get your mountaineering gear ready, form a group of adventurers and take off for Pucón, the point of departure for numerous excursions.
Finally, we recommend visiting the Osorno Volcano, surrounded by mysteries and legends; this volcano is located at the edge of the Vicente Pérez Rosales National Park and Llanquihue Lake, in the Chilean Patagonia. It is not an active volcano and it is one of the most enjoyable because winter sports and climbing can be enjoyed during the entire year, however, in summer climbing is reserved for experts who know how to manage surface cracks and other obstacles.
The most exciting Zip Lines in South America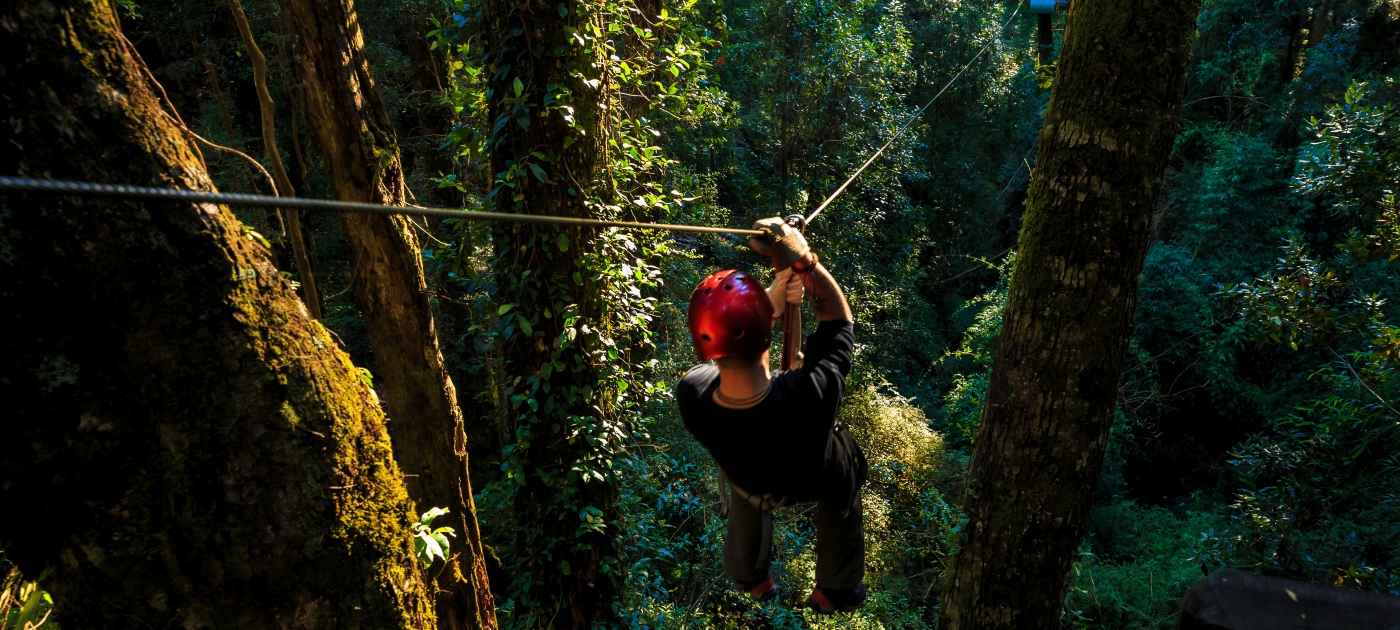 If you want a combination of nature and extreme sports, Chile offers a variety of possibilities. We have chosen three exciting canopy tours that are interesting to get to know, and an experience that will surely leave you dreaming of Chile.
The places that have the best zip lines are in Pucón, Puerto Varas and Neltume, and whose circuits are famous for their height, extension, and also since one gets to zip through beautiful places with mountains, volcanoes and rivers.
Condor canopy tour in Pucón is the longest in South America: more than 3 kilometers long with six platforms built in trees, to rest along the way. It's a Must-Do of pure adrenaline located 26 km (16 mi) from Pucón, in the middle of the Trancura Hot Springs.
During the high season, its hours of operation are from 11 AM to 6 PM, but it's best to go in the morning since the longest part of the ride has no shade and you can enjoy a special view of volcanoes, lakes and forests.
Canopy Lago Llanquihue, is the first zip line to exist in Chile and has had people talking about it since it was created, given its length of 2,000 meters (1,2mi), the second longest in South America. It's an activity for the entire family.  Unforgettable!
Finally, Vuelo del cóndor in Huilo Huilo ( Huilo Huilo Condor Flight) located in Neltume, has a zip line where one can sail through a 100,000 hectare park. Precaution: the ride is limited to people who weigh at least 50 kilos (110 pounds). Anyone weighing less runs the risk of injury from strong winds and speed.
Take a look at the place. It has incredible views from 700 meters above sea level.