Chile: A green tourism and biodiversity rising powerhouse
By:
Chile Travel

| Date: 29 September, 2020 | In:

Nature ,

Chile: A green tourism and biodiversity rising powerhouse

With a deep green geography, a great variety of climates, and numerous ecosystems, Chile has been on the path to becoming a green tourism powerhouse, also known as sustainable tourism, for many years.

One fact that confirms this is that nearly 22% of the domestic territory is part of the National System of State Protected Wildlife Areas, which means that Chile is increasingly promoting the protection of its environmental heritage, the latter consisting of 43 National Parks, 45 National Reserves, and 18 Natural Monuments.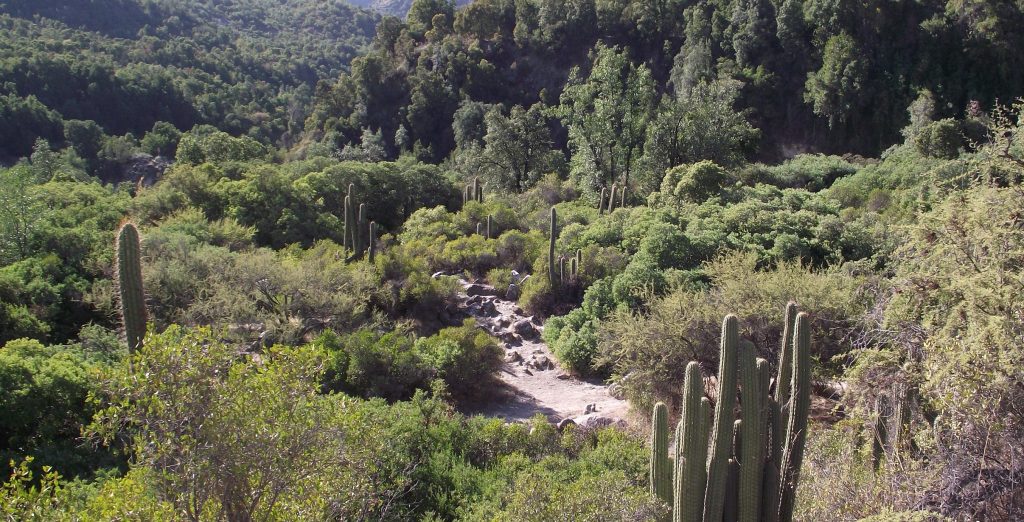 But what is green or sustainable tourism?  According to the World Tourism Organization, it is a tourism activity that must guarantee the optimal use of environmental resources, respecting essential ecological processes, and helping with the conservation of ecosystems and biodiversity through activities that are sustainably managed by the local community to ensure viable economic activities in the long term.
This strategic outlook is key when it comes to promoting sustainable or green tourism destinations in our country, which are intrinsically linked to sustainability and the understanding of the processes that our biodiversity and ecosystems go through.
Integrating this tourism trend and assuming its relevance in the world, Chile has taken important steps, incorporating sustainable tourism experiences throughout Chile.  Whether it is through the use of renewable energies, modes of transportation, and eco-friendly production, many entrepreneurs and other members of the Chilean tourism industry have been granted the seal of sustainability issued by the Chilean National Tourism Service.
Hence, those that want to deliver a genuinely sustainable and eco-friendly tourist experience are encouraged and rewarded.  In several places of Chile, from cities such as Santiago, southern Patagonia and the Araucanía, to northern Chile, you can find areas and experiences where green tourism is central.
Here we tell you about some green destinations and examples of how Chile is building a path towards sustainability and respect for our biodiversity.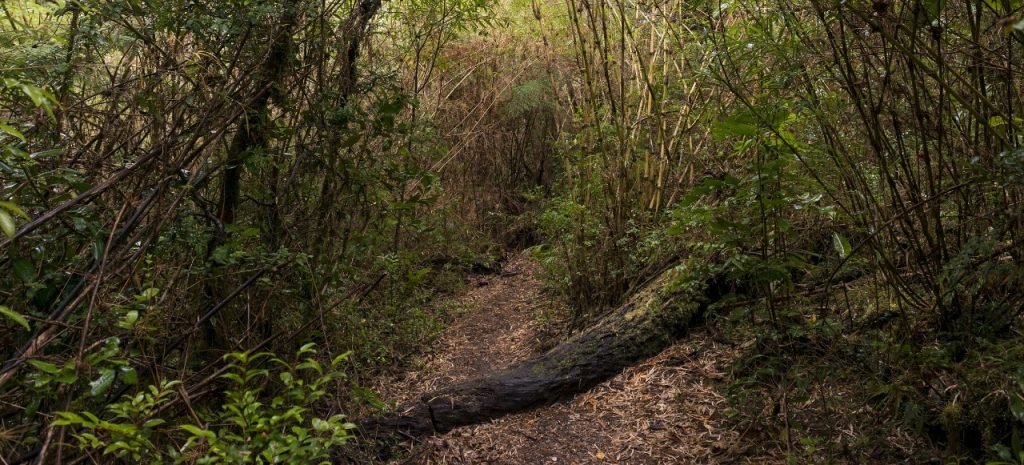 Green destinations: Parks and natural areas
Although it may not be apparent, very close to Santiago's concrete and fast pace, we find completely green destinations, which provide a beautiful contrast of calm and leisure.  The first of these, located 41.5 kilometers from the capital's center, is the new Río Clarillo National Park, with an area of 10,185 hectares (25,168 acres).
This park includes trails where you will find native flora, since it is one of the last refuges of the sclerophyllous hardwood forests.  This flora helps with the control of water loss during drought periods and is typical of the Andes foothills.
Within its fauna, foxes and large cats such as pumas and mountain cats stand out.
Another destination near Santiago is the La Campana National Park.  With an area of 8,000 hectares (19,768 acres), this park is of great ecological relevance, since UNESCO declared it a Biosphere Reserve, as it is the last natural forest that preserves the Chilean palm tree, a national endemic species.
One interesting trivia about this park is that in 1835 it was visited by the well-known British naturalist Charles Darwin, who after two days traveling reached the summit of the La Campana hill, leaving a record in his book A Naturalist's Voyage Round the World: "We spent the day on the summit, and I never enjoyed one more thoroughly.  Chile, bounded by the Andes and the Pacific, was seen as in a map…"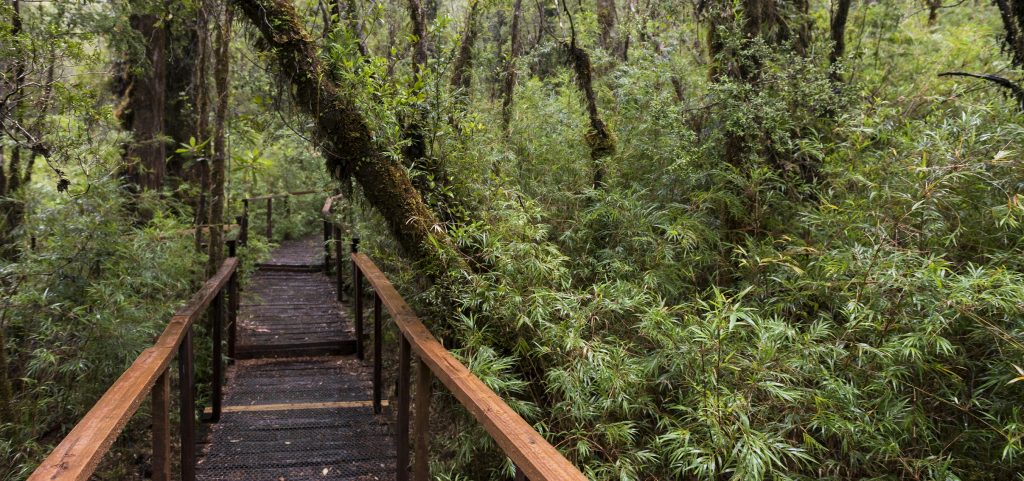 Further south, 860 kilometers from the capital of Chile and at the Andes' foothills, we find another great green destination, the Huilo Huilo Biological Reserve, founded in 1999.  With 100,000 hectares (247,105 acres), it was declared a Biosphere Reserve in 2007 by UNESCO, in addition to the recognition given by National Geographic in the category of Natural World Conservation, highlighting this green destination that has maintained its concern for conservation, integration, and sustainable tourism.
The Reserve protects unique ecosystems in the southern portion of our country, since it is home to more than 100 different bird species and is home to the renowned Darwin's frog, colocolo opossum, pudu, and includes a program to protect the huemul, which is in danger of extinction.  Within its flora, we find centennial trees like the Coigüe, Raulí, and Hazelnut.
Finally, 200 kilometers towards the coast of Huilo Huilo, is the Oncol Park, a nature reserve that protects the Valdivian rainforest, a refuge of 400 thousand kilometers of surface that shelters a unique biodiversity that has remained protected for millions of years, where the wildlife coexisted with dinosaurs.
This green destination is unique in Latin America, since the Valdivian rainforest's appearance is similar to tropical forests, but it grows in a cold climate and during the winter is usually snowed.  This makes it similar to other destinations located in Australia and New Zealand, but at the same time it is different and stands out with 2 thousand unique endemic plants on the planet, such as the Myrtle and Larch, examples of one of the longest living trees on the planet.
Within its fauna we can find the monito del monte, a species endemic to Chile, which is seriously endangered.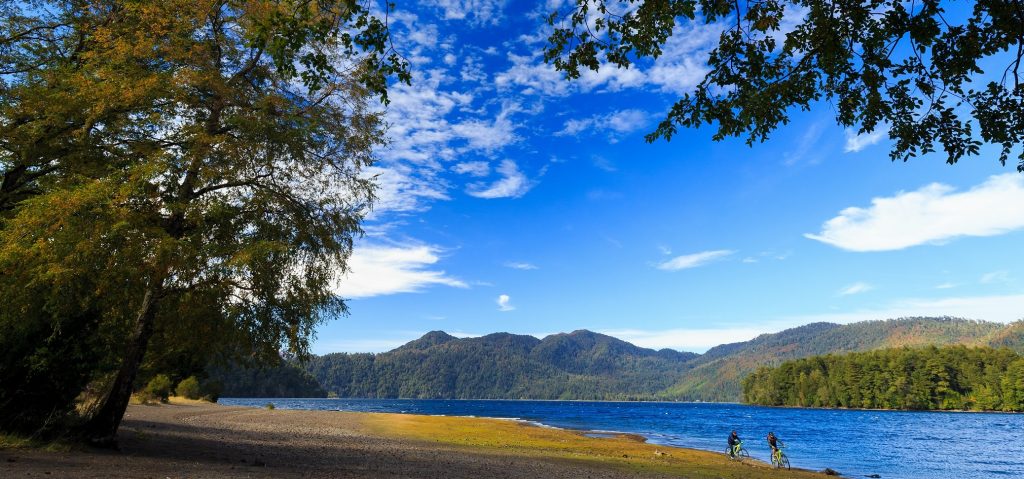 Green Experiences: Sustainability Seal
As previously mentioned, the sustainability approach is not only a particularly important strategic framework for the authorities, but it is also an economic engine for several tourism entrepreneurs who seek to stand out through sustainable and eco-friendly activities.
Hence, the Chilean tourism authorities have promoted the "Sustainability Seals", so that the companies that assume the commitment with environmental sustainability obtain this S Seal, guarantee that their experiences are carried out under these principles.
Currently, 167 seals have been issued to companies of the tourism industry throughout the country, 131 of which are lodgings and 36 are tour operators and travel agencies.  These services have been in charge of educating their passengers in the care of the environment through several practices such as recycling, monitoring the use of resources such as water and energy efficiency, and above all protecting the local communities' wellbeing.
Photo Credits
CONAF photo archives