Chile singled out as global astro-tourism leader
Ana Castañeda, a tourism expert from the island of La Palma, spoke about her experience in the public sector on La Palma's development of astronomy tourism and her vision of our destination as a Southern hemisphere leader in the field.
La Palma, in Spain's Canary Islands, is leading the way in European astronomy tourism, with its programs to build awareness of the sky's value, certification as a Starlight destination and the world's first Starlight reserve, special stargazing accommodation options, and a network of astronomy lookout points.
Ana Castañeda, head of general issues at La Palma's tourism service, visited Chile in September and gave a presentation on the development of the island's astronomy tourism at the country's First International Seminar on Astro-Tourism. She spoke with Turismo Chile at the event, explaining issues such as La Palma's strategy to position itself as a leader in astronomy tourism, and her vision of Chile's place in the field.
You visited Chile in 2010 from your home in La Palma – what was your goal?
-In 2009, International Year of Astronomy, Spain's tourism industry suffered a crisis that hit La Palma hard, because we didn't have any single product to set us apart; we were just promoting sun and sand, just like all the other Canary Islands. Based on that, and following the International Starlight Conference that had been held on the island in 2007, with the signing of the La Palma Starlight Declaration", there was renewed emphasis on the need to create a product linked to the stars, which had been somewhat forgotten back then.
Thus, more value was placed on how the sky could be used as a tourist attraction, with the creation of working groups: a technical body and an institutional one with different groups involved. We went to international tourism fairs and looked for other destinations that offered astronomy tourism, to find out what they had developed, and where we could find information about it. At the International Tourism Fair in Spain (FITUR) we met representatives of Chile and Coquimbo Region, and started to make contact with them. The first thing we did was a visit to La Palma for the Coquimbo people in 2010, where they gave talks and held meetings to set up exchanges. We then scheduled another visit for us to go to Chile and find out about its astro-tourism in Coquimbo Region.  So, late in 2010 I went with four other people to find out about initiatives in progress there.
We visited observatories, some astronomy accommodation options, and had work meetings and meetings with businesspeople from the region. That sparked the natural relationship between the two destinations. Meanwhile we got financing to do things on the island, as agreements were signed with the Ministry and the Canaries government at the end of that year, and in 2011 we started implementation, to generate astronomy-themed options and work on the product.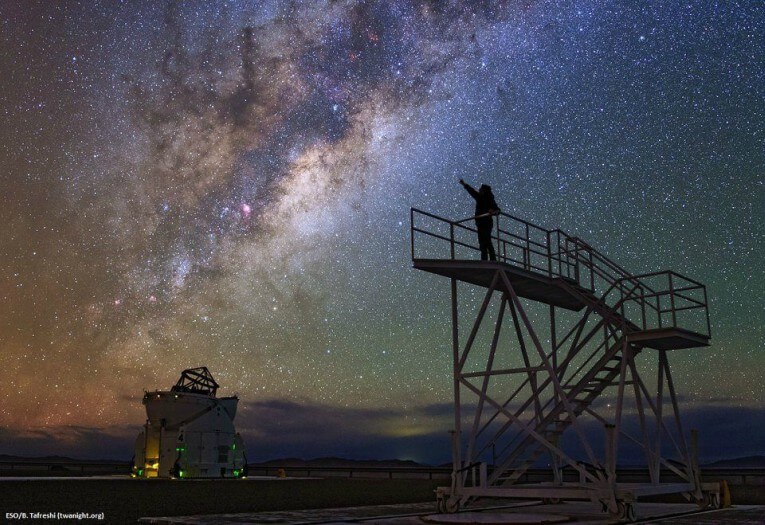 How did you find Chile for astronomy tourism, back then?
-It impressed us. We went home wanting to cry, as we had nothing at all, and you had so much. So far ahead.
We went to astronomy themed hotels, like Hostal Apuwara, and several tourism observatories, like Cruz del Sur, Mamalluca, and Collowara, and we saw scientific observatories, like Tololo.
The scientific side was not such a surprise, as we also have observatories like that in La Palma. More in terms of tourism we found that they already had an impressive network of observatories and that everyone was saying they had an amazing sky, that it was the best sky in the world. They were talking about the sky and the astro-tourism option with respect and wonder. People in the community were aware of it. We were amazed that people were talking like that, and the fact that they already had some initiatives for astronomy-themed restaurants and accommodation.
That's almost six years ago. Had you come back to Chile?
-This is our first trip back. We've had a representative from Coquimbo visit us on the island for work meetings and at some seminars we've held, as we wanted our people also to become aware and see what was possible.
Now that you are here, do you feel that Chile has advanced?
-The road signage you have on the Gabriela Mistral Highway is impressive. Sure, there's room for improvement, like what we took home from a meeting about signage for the observation elements closest to the specialized astronomy accommodation options. I've also seen new initiatives like Alfa Aldea, Mamalluca now has a new part, and there are small private initiatives. I've seen progress.
You've managed to make a lot of progress in a short time…
-When you have nothing it's easy to stand out, because you see the projection. We have taken an important path, from having nothing to having what we have six years on. One of the main aspects is awareness building, for citizens and decision makers, as they are interested in astronomy tourism as an industry.
The work you have been doing has a major element of visibility…
-It was also something that came along at the right time. The creation of the Starlight Foundation gave visibility to the destinations they certify, as happened at La Palma. So they've made us a benchmark for Europe. People even came from Canada to see how we had integrated the theme. That's helped us too. We went from not having a clear product to having something that has started to stand out, which made the regional government also get involved.
La Palma and Chile are two destinations that are not comparable in terms of size. Awareness building has been easier for us, because we're so much smaller. Our astronomy tourism services are controlled, we know all about them and they're in our action plan. For example, in municipal government we have applied the sky law, and they know that it has to be applied. We have been raising awareness that it is necessary and compulsory for years, as the observatories need it. The thing it, the result and visibility of that work, when set in a context of tourism, the infrastructure of the lookout points and the trails, together with integrated astronomy into companies and souvenir shops with merchandising, generates visibility for visiting tourists.
It's an attractive area and has been covered heavily in the local press, and it's also made a big splash with the Ministry of Tourism, which has given us a national award as an emerging destination for creating a star product. All that gets you a level of visibility that we didn't have before. In politics and government people have taken this on board. Now emphasis is being placed on implementing the astro-tourism projects that were requested, like the observatory, and the observation cabin that is going to be built.
When you have a specific ephemeris, the leading destinations are always going to stand out, for instance as the best place in the world to observe the stars. Reports like that put us in the limelight and give us visibility. The national and international press have taken an extraordinary interest in astronomy tourism, and they started talk about Chile on the one hand and Spain on the other. It seems that astro-tourism is in fashion, and you have to take advantage of the trends.
In Europe people have always been looking at the stars, but we don't know of any place that got certified, that built a market around that field. We're also aware that it's been a matter of circumstances and a bit of luck, as everything has worked out for us.
Do you still think that Chile is better positioned for astronomy tourism?
-Yes. Chile has been doing it for years. For example, Mamalluca has been up and running almost 20 years. So we're years behind them. We don't have the major infrastructure that you have, making up a powerful network of tourist observatories, which we'd love to have.
Do you not have any tourist observatories in La Palma?
-We don't have any tourist observatories yet. What we do is tours to the astronomy lookout points, where they put up portable telescopes and do the activity. In Chile the services available are more complete, as you have a huge range of options. More than 40% of the surface area of La Palma is protected. As the tourist observatory that we want to build is inside a protected natural space, we've had to deal with heaps of legal requirements. So any initiative you want to do isn't very easy. In Chile you have it easy in terms of areas.
What do you think Chile is missing when it comes to astronomy tourism? What do you think we need in order to keep on improving?
-I'd try, if you're talking about growing and attracting tourism markets, to think about building with more European parameters. Although there are all kinds of clients, it's also true that some are not going to be comfortable camping, they prefer a hotel. There are very good establishments there they're running initiatives with telescopes and domes, so maybe they could make more hotel style accommodation there, which could improve the image. Anyway, it's all relative, depending on the market.
Does your agreement with Coquimbo set out to create a network of astronomy tourism destinations?
-Yes. We want to have quality standards. The idea is that not just anywhere can get certified as a Starlight zone. You need to meet requirements, like specialized accommodation, infrastructure, etc. Now we know that both Coquimbo Region and La Palma meet those requirements.
So the idea is not to compete, but rather to be complementary destinations…
-The idea is to work together to make a difference and have a solid, high quality standard. These two areas are leading the way in the Northern and Southern Hemispheres. We want to stay in the lead.
We also want to advise each other, work together, make powerful astro-tourism events to raise awareness and keep us in the limelight, so we get mentioned now and then and we're always in the news.